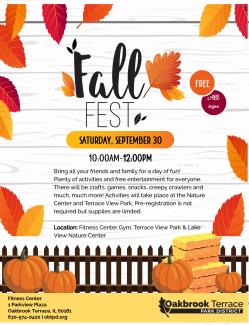 Bring the whole family and your friends for a day of fun!
Plenty of activities and free entertainment for everyone. There will be crafts, games, inflatables, snacks, and much, much more! Activities will take place at the Nature Center and Terrace View Park. Pre-registration is not required but supplies are limited. 
Due to limited parking in the Terrace View Park lot, the Park District is encouraging patrons to park in the parking garage next to the Park District's Fitness Center. Patrons can enter Terrace View Park directly through the Fitness Center. You can find directions to the Fitness Center's parking garage here.