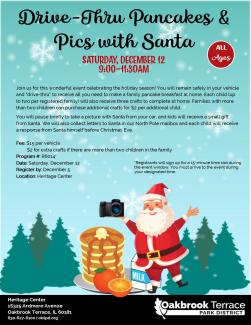 Join us for this wonderful event celebrating the holiday season! You will remain safely in your vehicle and "drive-thru" to receive all you need to make a family pancake breakfast at home. Each child (up to two per registered family) will also receive three crafts to complete at home. Families with more than two children can purchase additional crafts for $2 per additional child.
You will pause briefly to take a picture with Santa from your car, and kids will receive a small gift from Santa. We will also collect letters to Santa in our North Pole mailbox and each child will receive a response from Santa himself before Christmas Eve. 
Fee: $15 per vehicle (Event is Full)
$2 for extra crafts if there are more than two children in the family
Program #: R6014*
Date: Saturday, December 12
Register by: December 5
Location: Heritage Center
*Registrants will sign up for a 15-minute time slot during the event window. You must arrive to the event during your designated time.